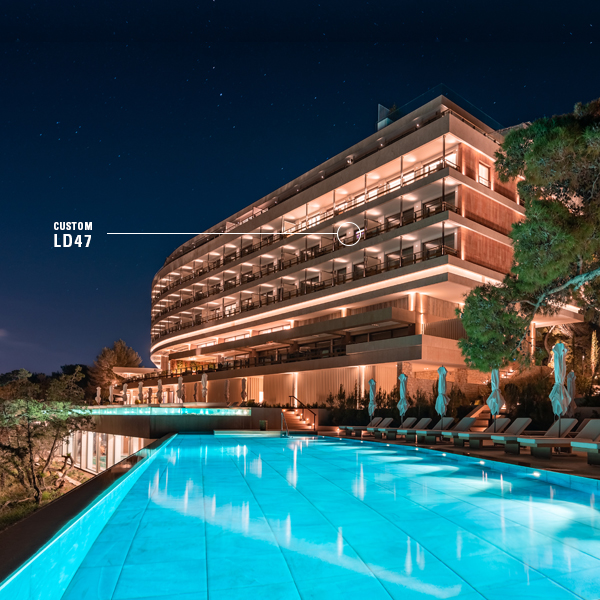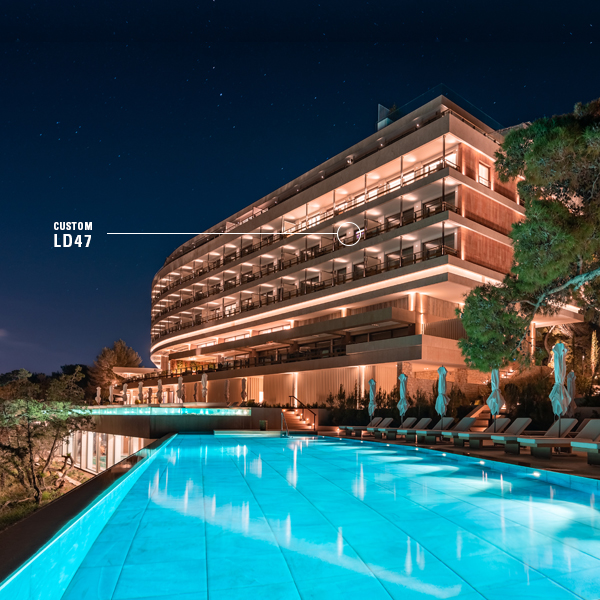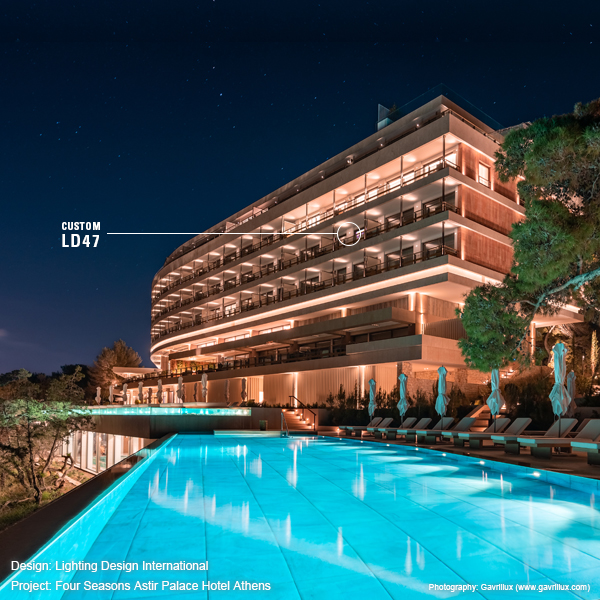 New Project: Four Seasons Astir Palace Hotel. Athens. Greece
24th Mar 2020
LightGraphix, working to designs created by Lighting Design International, are delighted to have supplied more than 3,500 luminaires for the exterior and interior refurbishment of the Four Seasons Astir Palace Hotel Athens. In partnership with Smeka, our agent in Greece, we supplied a range of fittings to both hotels within the complex, Arion and Nafsika. Lighting Design International designed a lighting scheme to compliment Arion's laid-back relaxation, and Nafsika's dynamic see-and-be seen vibe.
The Astir Palace Hotel Athens is located on a peninsula on the sophisticated Athens Riviera meaning the hotel is directly open to the elements from the sea. LightGraphix was therefore the natural choice to supply the external spotlights for this project, owing to their extensive experience of supplying superior quality lighting for exterior and yacht applications that can withstand the harshest of environments.
LD151 high-powered uplights are being used to great effect to light the exterior columns situated at the entrance to Nafsika, with surface mounted LD10238 and LD10237 spotlights also used to highlight other features. As all three fittings use the same light engine and optics, enabling a consistent effect to be created throughout. The linear lensed LD38C wall washers installed were RAL colour matched to the façade so they blend seamlessly into the architecture. LightGraphix's miniature LD51 spotlights create a subtle wash up each of the balcony walls, and elsewhere LD64s, LD242As are being used extensively.
As part of their lighting scheme, Lighting Design International wanted to create a wash of light on the balcony ceiling between the hotel rooms. Working closely with our specials department they came up with the novel idea of orientating the LD47 wall light up, instead of down, and mounting it near the ceiling. However, since there was no recess depth, a new, custom surface-mounted version was developed.
Internally, many of LightGraphix's in-ground uplights and wall lights are being used. LD56 features extensively in corridors and in the ultra luxurious washrooms. These small but powerful uplights were fitted with internal glare shields to further reduce glare, whilst high quality solid bronze bezels ensure a high-end feel to match the surroundings. The miniature wall light range featuring the LD42W and LD42A, and the larger LD59, are also used extensively to great effect.
During the project LightGraphix's overseas department liaised directly with the contractor to make sure delivery times for our products, many with custom finishes, were met and that the procurement process ran as smoothly and seamlessly as possible.
Lighting Designer: Lighting Design International
Project: Four Seasons Astir Palace Hotel. Athens
Products: LD56, LD42W. LD42A, LD150, LD59, LD242A, LD64, LD151, LD10238, LD10237, LD51, LD38C, LD40
Partner: Smeka
Photography: gavriilux (www.givriilux.com)