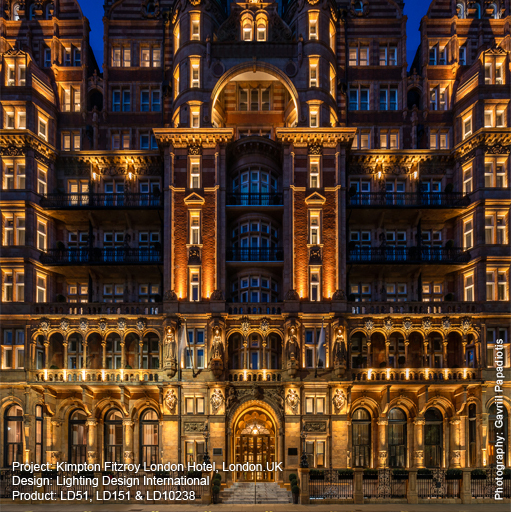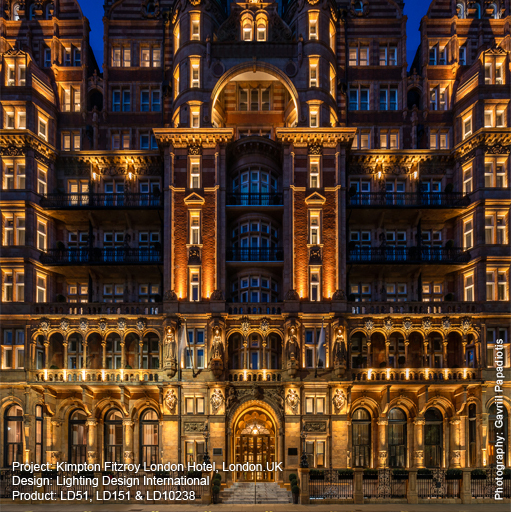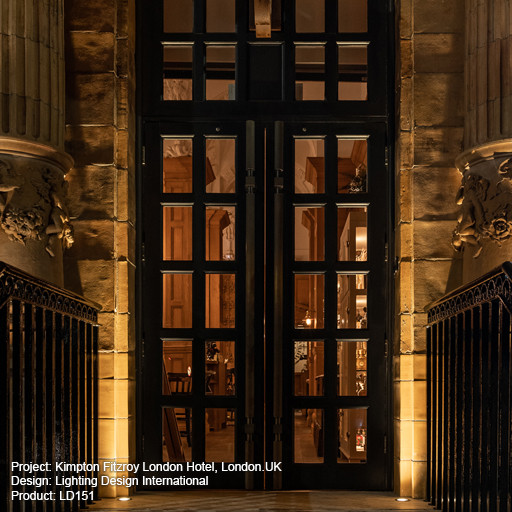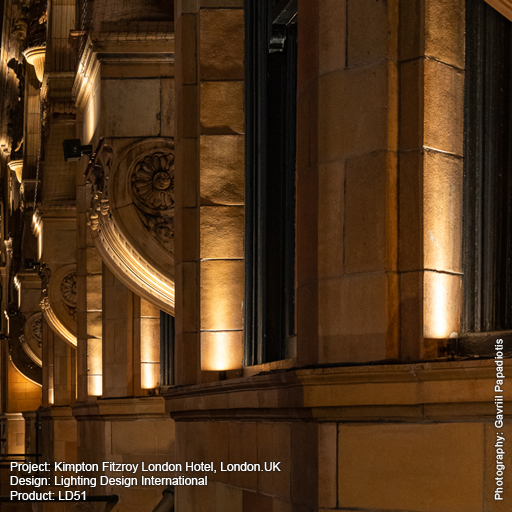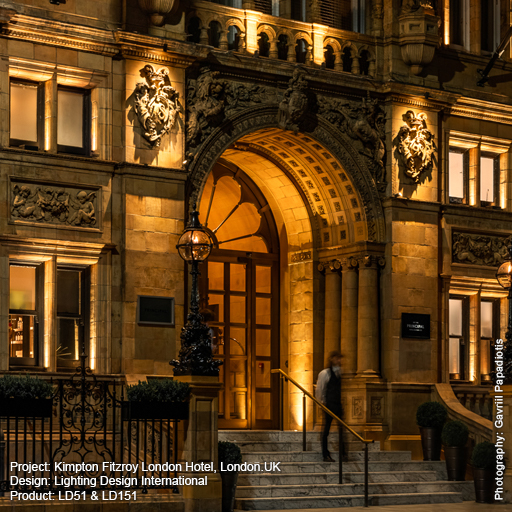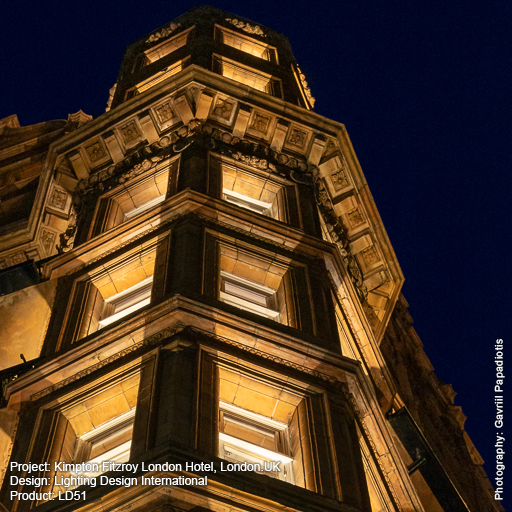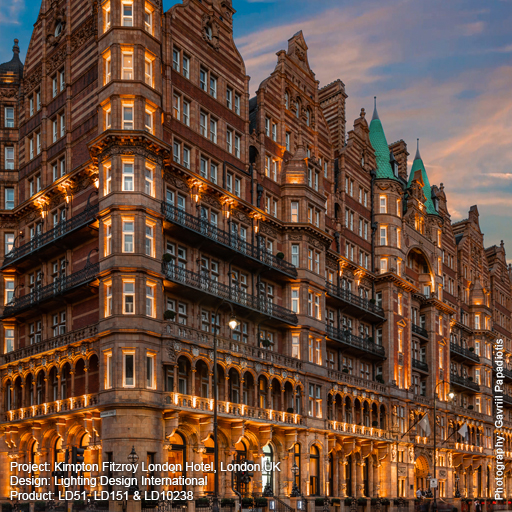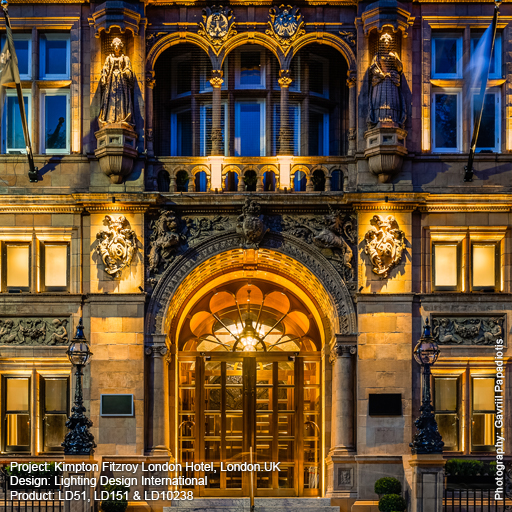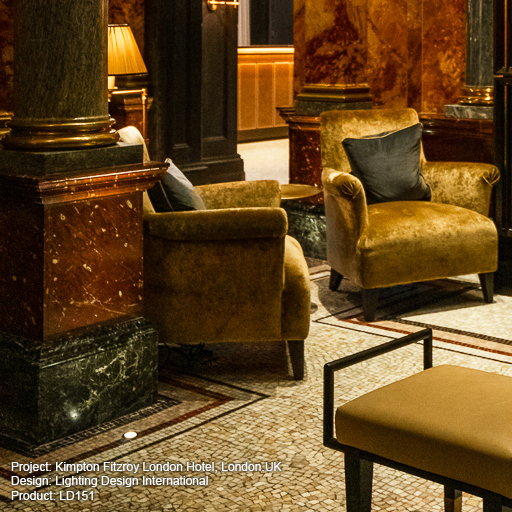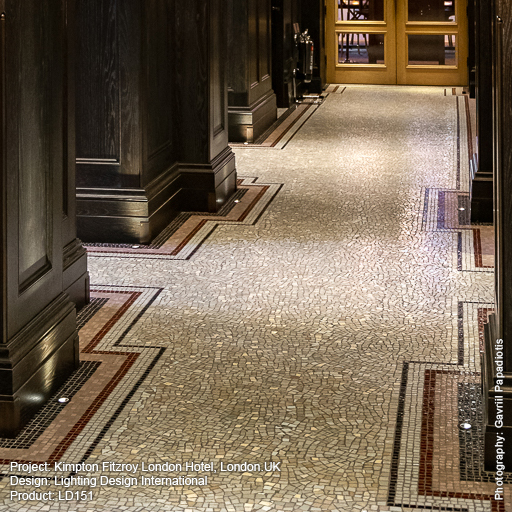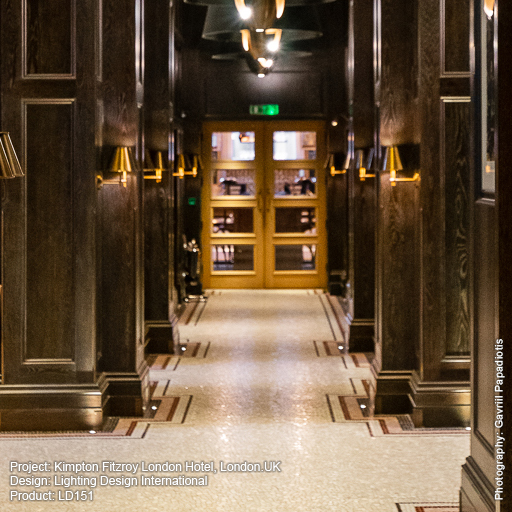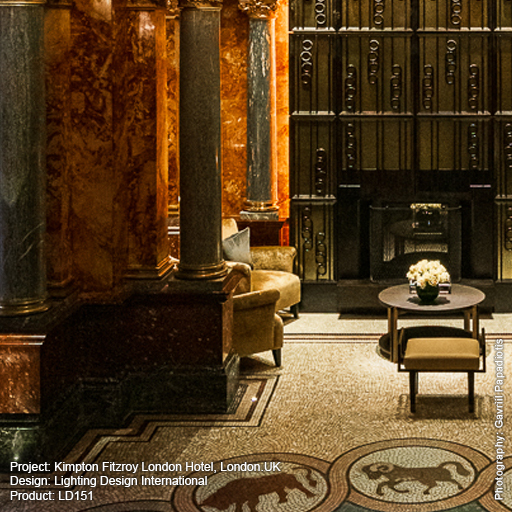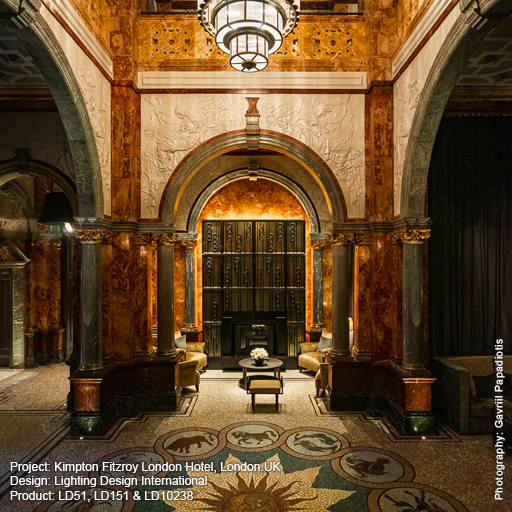 Kimpton Fitzroy Hotel London
2nd Jul 2021
Stretching an entire block of Russell Square in London, it is impossible for those passing by the Kimpton Fitzroy hotel, not to stand in awe of its grand façade, clad in thé-au-lait terracotta and adorned with features that pay homage to its 19th century heritage.
In 2018 the 5* hotel reopened after an extensive refurbishment which included a complete interior and exterior lighting scheme, with commissioned designers, Lighting Design International (LDI).
With so much intricate detail to consider, Lighting Design International opted for a restrained approach and warm 2700K colour scheme, keeping luminaires hidden as much as possible. This largely included the use of surface mounted fittings which would have minimal impact when being installed onto the Grade II listed building's terracotta tiling, where recessing was not possible.
Miniature surface mounted LD51s with anti-glare cowls were specified in a 12° narrow beam to create a super low glare, but powerful throw of light extending up the length of the large windows and architraves. The fitting is adjustable so allowed the LED to be positioned and locked at various angles. By choosing the LD51, the custom length IP67 rated cables did not need to be routed into the building causing unnecessary penetration of the historic walls.
Our larger surface mounted LD10238 spotlight was chosen for its exceptional beam control, high-power output and minimal aesthetic, allowing it to blend in discreetly. Though compact in size, it can deliver up to 891 lumens and was used to uplight columns and balconies, extending multiple levels of the façade over 3 metres in height and gently highlighting details from a distance. Thanks to its 90° head tilt adjustment, the fitting could be pointed in multiple directions from the cornice where it was mounted to avoid spilling into guestrooms.
Although there were limited opportunities to recess fittings, our LD151 high-power uplight was selected for in-ground street level lighting of the main entrances. Having used the LD151 for years, LDI knew the deep recessed optics and glare control accessories would provide the perfect solution to ensure that guests did not experience any glare whilst passing.
In 2019 the Kimpton Fitzroy project was presented with the prestigious IALD Radiance award for excellence in lighting design, praised for its "masterful composition". Using products with the best quality beam shape and glare control as well as a combination of tightly binned high and low output fittings, the scheme exhibits an elegantly balanced design that in reality is as complex as the architectural detail itself.
"I don't think we would have been able to achieve the harmony we see in the lighting effects and the installation without the varied range of fittings and exceptional quality of light LightGraphix products provide. The project was a great success!" – Ben Ferris, Senior Designer, Lighting Design International