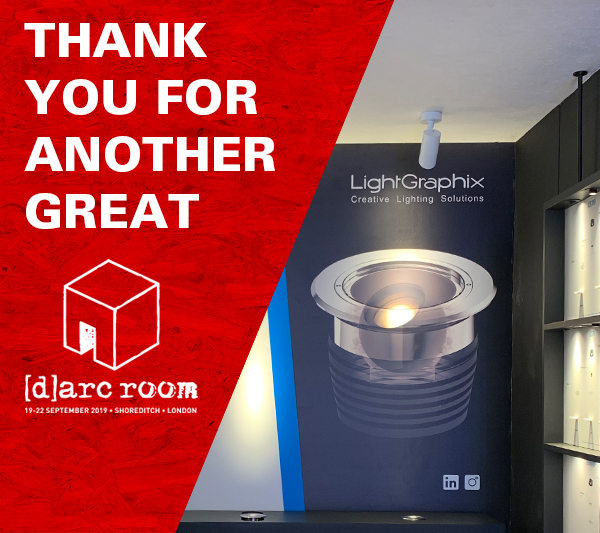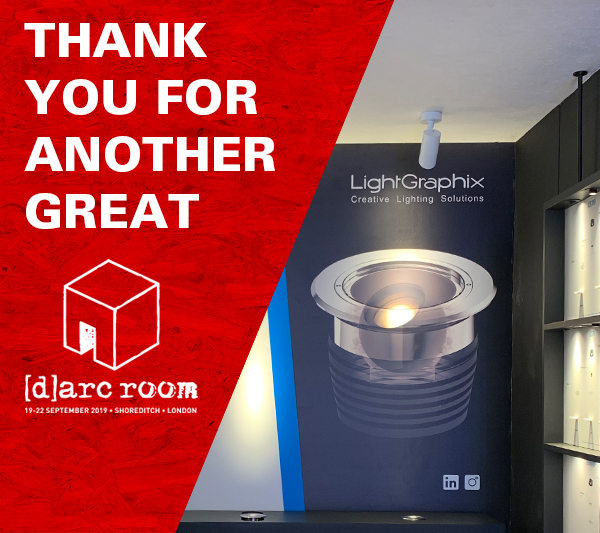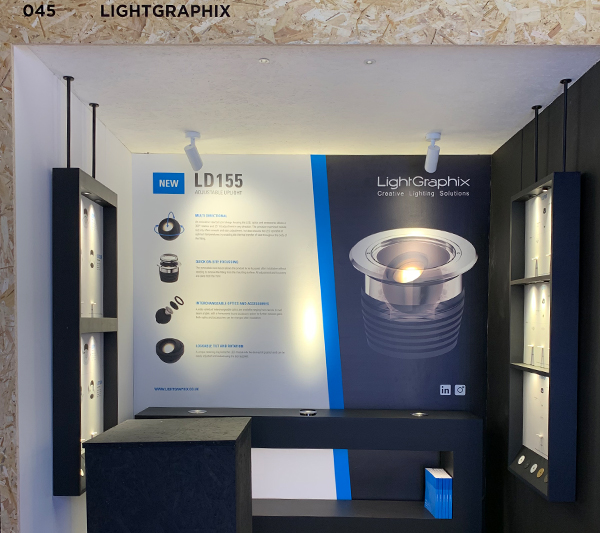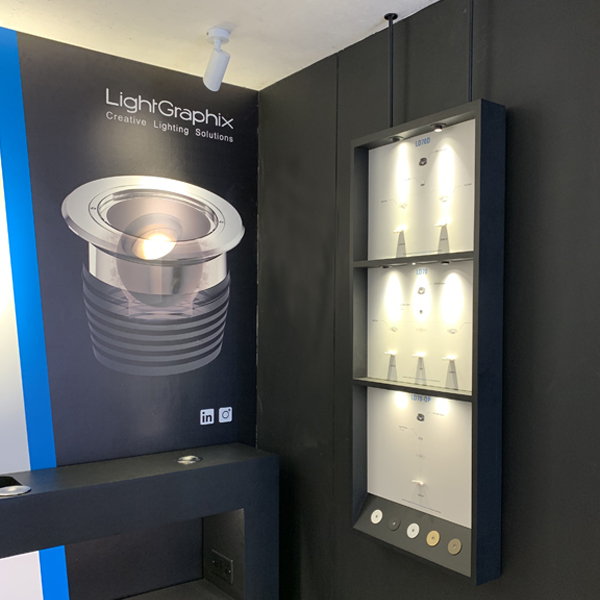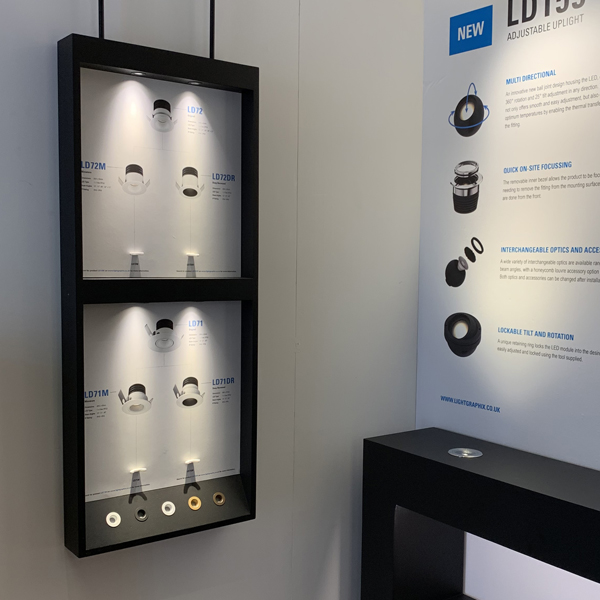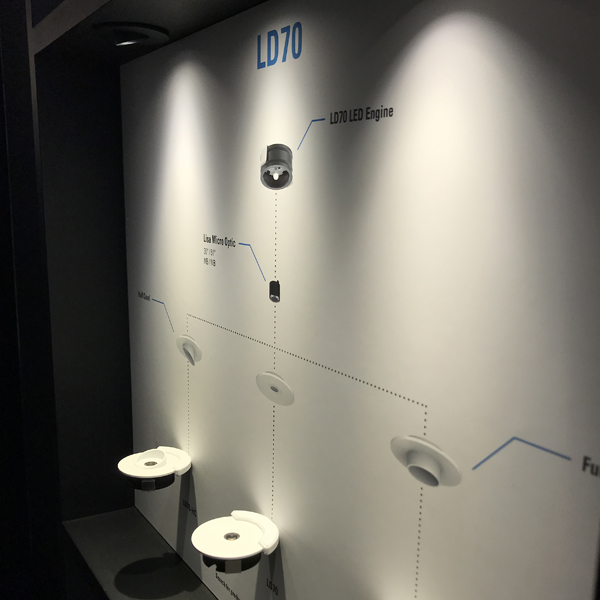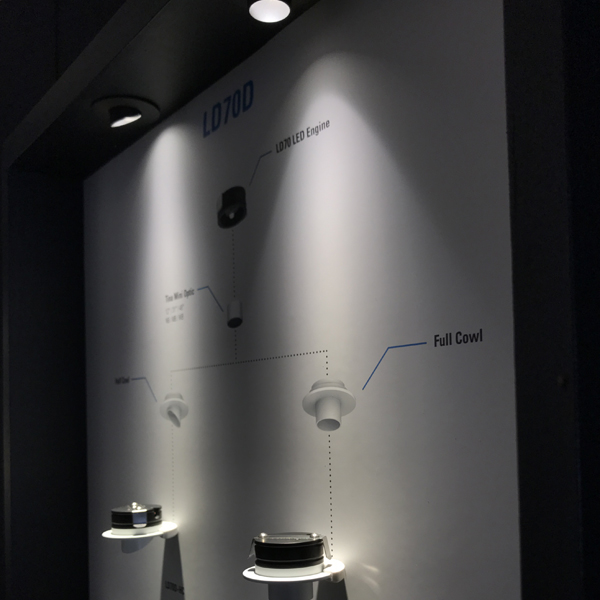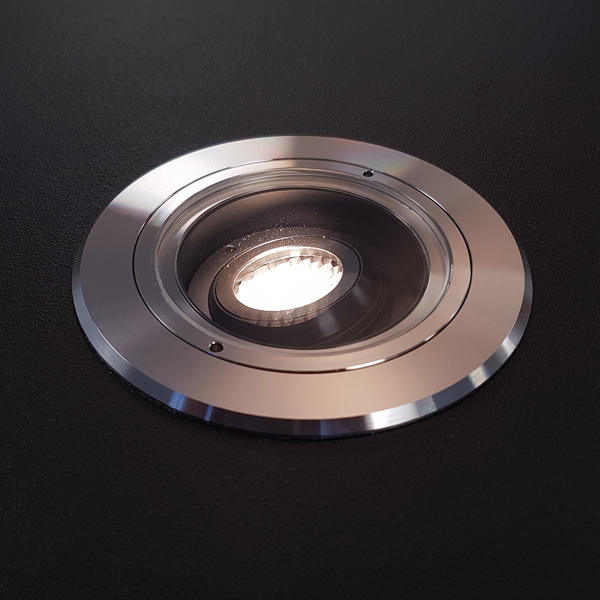 Thank you for another great [d]arc room
3rd Oct 2019
This September 19th-22nd we exhibited at London Design Fair - [d)arc room 2019 at Old Truman Brewery in Shoreditch, London. It was great to see so many of you there, but we know not everyone could attend so we have collated our best bits in our [d)arc room video (below)
We launched a number of exciting and innovative new products at this year's [d)arc room, including our brand new LD155 uplight and the next generation of our LD71 and LD72 downlights, the LD71M and LD72M, and the LD71DR and LD72DR.
The LD155 is an IP67 rated, in-ground, high powered, adjustable uplight designed for both internal and external applications. Featuring a lockable 360° rotation and 25° tilt, this uplight incorporates a removable inner bezel so the product can be focussed after installation with adjustment and focussing carried out from the front. The LD155 features a retaining ring which locks the LED module into the desired position, and the supplied tool allows both tilt and adjustment to be locked in one easy step. Using the E1 light engine and a single optic provides consistency of light output with the other LED fittings in the E1 range, and a variety of interchangeable optics and accessories ensure the LD155 offers a huge scope of flexibility for lighting projects.
The LD71M and LD72M represent the next evolution of the LD71 and LD72. Both have been reduced in size, with the LD71M shrinking by over 10mm in diameter, whilst still maintaining the same high output. The minimal design makes them ideal for both display and general downlighting effects. The LED is set back 10mm for reduced glare, and the LD71M offers an adjustment of up to 25°. These fittings are IP40 rated as standard but can be specified IP54 for bathrooms or wet environments.
LD71DR and LD72DR are miniature LED downlights with a deep recessed LED and matt black baffle. They have been specifically designed for applications that require extra low glare downlights. The matt black baffle has been specially developed to create very little internal reflection, ensuring maximum visual comfort balanced with the ability to offer a range of beam angles. IP40 rated as standard, these fittings can be specified IP54 for bathrooms or wet environments.
Also on show at [d)arc 2019 were some of our recently launched product lines, the LD70D and LD70-OP range as well as the LD10235 spotlight and the LD151T uplight.
The LD70, LD70D and LD70-OP are a range of miniature LED downlights featuring an extremely shallow recess depth. They feature minimal bezel thickness and are available with an optional half or fully cowled bezel to give optimal glare control. This makes them ideal for ultra-discreet lighting in display cabinets or under shelving.
The high-power floor or ceiling mounted LD10235 spotlight was designed for applications where a recessed fitting cannot be installed and a surface-mounted solution is required. This fitting features a deep recessed E1 LED engine, optional glare shields and a range of optics.
The LD151T has been designed with the LED and optics on a 50° tilt. This allows the light to be focussed onto the lit surface and enables the uplights to be set further away from the wall if required. It has been developed specifically to produce low-glare illumination for exterior walls and columns.